So Many Firewood Carrier Bags. How to Choose?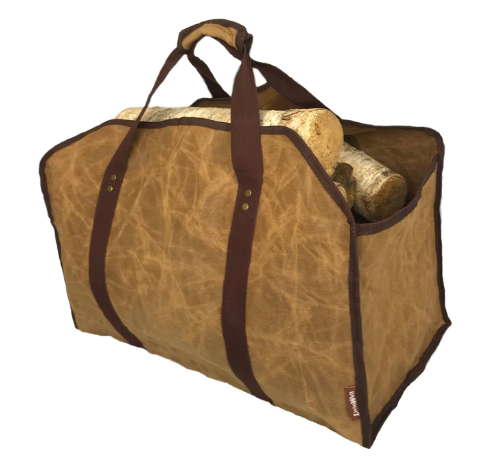 Everyone loves to relax in front of a roaring fireplace hearth. If you burn firewood in a woodstove or fireplace you know it doesn't happen without some work and mess beforehand. There is the cutting, splitting and stacking. Then the aging and keeping it all dry. Finally, you carry a load of those hardwood logs into your living room to build a fire. You can almost smell it.
So, how do you get that load of firewood into your home and store it next to your fireplace without soiling your floors or spreading wood dirt all over your home? And once the bag of wood is in the room, how can you prevent it from being an eyesore in your beautiful room?
In this blog, we highlight features of canvas firewood carrier totes bags that one should consider when selecting from the hundreds of brands and models available online. Additionally, we will suggest that you should have a suitable sturdy landing rack in which to rest the bag, once indoors, in order to protect your floors from the bag bottom which can become dirty or damp from loading outdoors at your woodpile. The rack will also keep the wood bundle safely standing tall and straight, instead of falling out across your carpeting.
Start with the right firewood carrier bag
The log bag should be able to stand up by itself so you can easily load it with both free hands. Many bags just collapse into a flat pile of material on the floor, making them hard to load and hard to keep dirt inside them.

The bag should have closed vertical end panels that prevent debris from falling out the ends of the tote onto the floors in your home. Many log carriers are just a big piece of canvas with handles and open ends, so dirt can spill out while carrying. Those kinds of totes should only be used for outdoor fires where the mess is not an issue.

If the straps tear loose or break, your wood bag becomes worthless. Leather straps age, crack and break, as do plastic ones. Straps that are stitched to one spot tear loose. Make sure the bag you choose has very strong woven straps that wrap all the way around the bag body to support the weight. This design will never tear loose.

You'll want less trips to the woodpile with a large capacity hauler bag to contain a big load of split firewood. Avoid decorative, but poorly designed or narrow bags.

A sturdy bag can also be attractie. In fact, if it is made with the best materials you will have an attractive timeless addition to your fireplace decore that lasts for many years. Look for quality heavy material and solid stitching workmanship. A good, 100% cotton, heavy waxed canvas (16 oz. Canvas thickness or higher) will continue to look better with scrapes and creases, which gives the bag a rustic vintage look.

You'll want the bag to be moisture-resistant and easy to clean using damp cloth. Avoid cheap plastic liners that tend to crack and tear with age in cold weather.

Shoulder straps seem like a nice idea until you realize they are always in your way and they get dirty laying on the ground while you load the wood bag. So we left them off, along with any other cost adders that you probably don't want, like a big leather logo, pockets, zippers, etc. Just a solid, standup bag that looks great and lasts a long time.
What could be better than having having all of this in one log bag?
Well, you could cradle your loaded log bag to stand tall in its own special rack by your fireplace that is specifically designed to

support the logs while they are still in the bag with the dirt.
Most people set their canvas log bag on the floor by their fireplace, which will work ok, if you don't have a massive stone hearth. But, even then, the load can shift and spill out onto the floor. Also, if the bag bottom gets damp or dirty while loading at your woodpile outside, then you can soil your carpets or damage wood flooring when you set the bag of logs on the floor.

We suggest you set your loaded log bag in a raised landing rack that is specially designed to cradle your logs while still in the bag with the dirt. It will support your log stack with strong steel uprights and elevate the bag bottom above the floor with protective rubber feet.

Historically, racks that hold the wood AND the bag, if you can find one, have been overbuilt or overly decorative and, therefore, very expensive. We see up to $120 just for the rack and $160 with a canvas bag. We wanted to offer this same functionality in a simple, compact rack that is avery affordable. We did not skimp on quality of materials or sturdiness of the structure at all. The secret to our low cost is the simplicity of the individual parts and ability to ship in a very small box for lower material and shipping costs. The assembly locks together into a sturdy strong structure with only four screws. Finally, we gave it a rust protecting powder coat that looks great in basic black.

Yes, there are many indoor log racks on the market. But most of them only allow you to use an open ended bag or to stack logs in the rack without a bag. Either way, you will have log dirt all over your floor and need to constantly be cleaning that up.
Conclusion
Our low cost landing rack is unique in the market as it is specifically designed to support your firewood logs while they are still in the bag with the dirt. It keeps floors clean and protected from dirt and dampness from a bag bottom that was loaded outdoors.

The bag and rack can be purchased separately, so you can use the rack with the log carrier you already have, or bundle the pair for a $10 savings.

Make your bag of wood an attractive part of your fireplace decor instead of a dirty eyesore with our cool clean combo. LivinWell's canvas firewood carrier bag checks has all the strength, durability and features you need to keep your wood burning area dirt free and attractive.